Current Status : Distrokid Publish scheduled (complete)
If you like this track, check out my latest project with Dreams of Lasers:

About The Track
This track is a collaboration with Dreams of Lasers . It's fairly unusual for me to get involved in colab projects, and it's not something I'm normally seeking out to do. However! About a week and a half ago Dreams of Lasers (DOL) sent me a note in the IMF discord expressing interest in doing a collaborative project with me. I am a fan of Dreams of Lasers, I really enjoy his style and when he suggested a collab I knew out the gate there was some potential for something good to come out of it. The track that I currently enjoy most of his is In America. Definitely check out some of his work, follow on Soundcloud and Spotify.
How the project ran:
I don't have much experience with doing a music collaboration over the internet. Neither of us seemed to know how projects like this 'are supposed to run' we both created some ideas and passed them back and forth. I spent 2 nights exploring ideas I thought could work with the DOL sound, and settled on a small snippet that is now the intro of the song and basis of the chorus.
Eventually we kind of settled on this riff, with DOL sending me guitar parts, vocal melodies, song sections, and we had a pretty much daily discussion about the direction of the track and left with a few action items each. The first groove I sent him was based on the sound of Britney Spearks 'Lace and Leather' . It was almost entirely rythem based and had no chord progression. DOL said he liked the vibe but needed more chords to in it. I went back to the DAW and made a …. slightly better concept: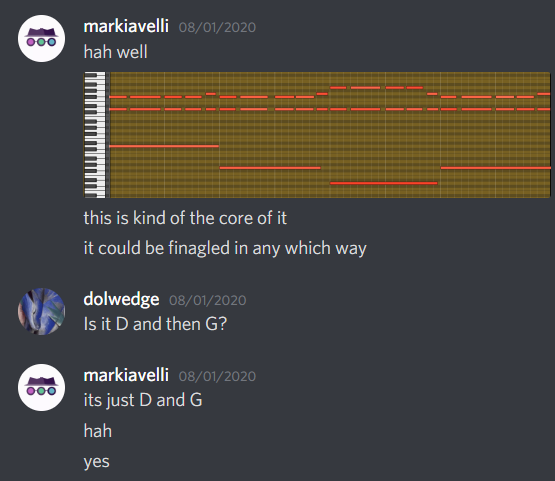 The next day: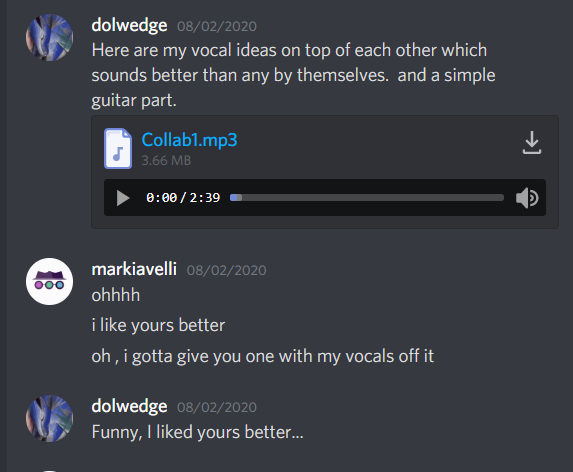 The Next Day: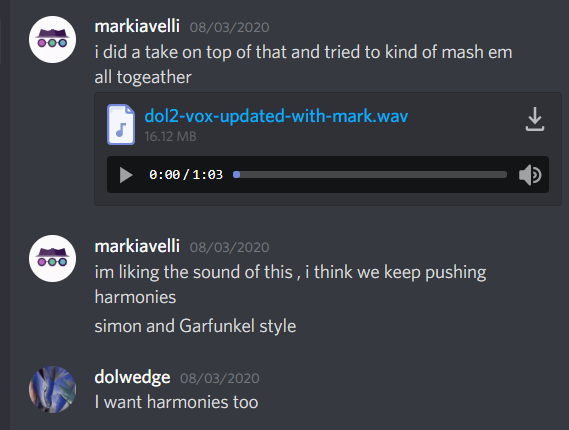 A few days later…..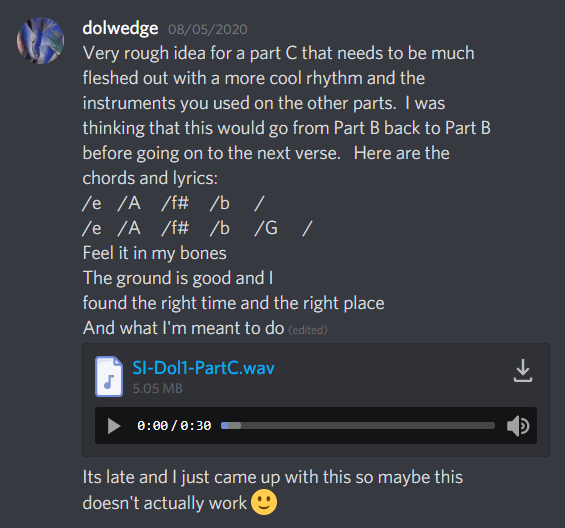 There is a lot more to the conversion, but I think whats above here paints an overall picture for how the project worked. Back and forth daily discussions on the track and parts getting traded pretty much daily.
We continued back and forth like this each day. I was helming the DAW (Reason 11) and overall production, and DOL was sending me parts to use , and ideas for how to lay out the structure of the track. Most notably.. the 'C Part' was a progression, with vocal melody and lyrics, he sent me that comes after the first chorus. I originally had a much softer bassline in the part, and intended to feature guitar playing there. DOL suggested I instead funk it up with a SI style bassline. I spent a night working on a groove that fit in the progression. This C part is probably my favorite section of the song now – I love the way it came out.
There was a fair amount of back and forth on that C section, getting into it smoothly, getting out of it smoothly, with multiple changes made through the course of the project.
Beginning to end this col-lab took about a week and a half to make from (what should we do to structure complete track). I plan on doing another track with DOL turned the other way around. Where he runs the DAW and i send parts and ideas over (if hes up for it).
On the lyrics
I had kind of stumbled into 'the reason im here' as a hook and initially was building around that. I like this phrase as its interpretation can be broad. The reason for doing anything, or a specific thing, each listener could draw a different 'reason' for what its about. My first verse is 'locked inside my room, on a sunday afternoon, thats the reason i'm here' – literally the reason the track is made is bc i focused in on it for a sunday afternoon. A little meta lyric there. Then 'barefeet i stand in the grass and the wind blows my hair in front of my glasses.. i dont care, thats the reason im here" Is a new context – The reason i came outside was to feel nature and the wind blow in my face. Overall its meant to be a little vague as to what exactly 'the reason' is , but enough of an overall vibe to deliver an internalization to a listener about what their reason is for doing anything.
Production Stuff
EZ Drummer:
I recently picked up EZdrummer, up to this point I had been playing it on my AKAI drum pad midi controller. This track I used mostly EZdrummer pre-made midi patterns and assembled them into sections.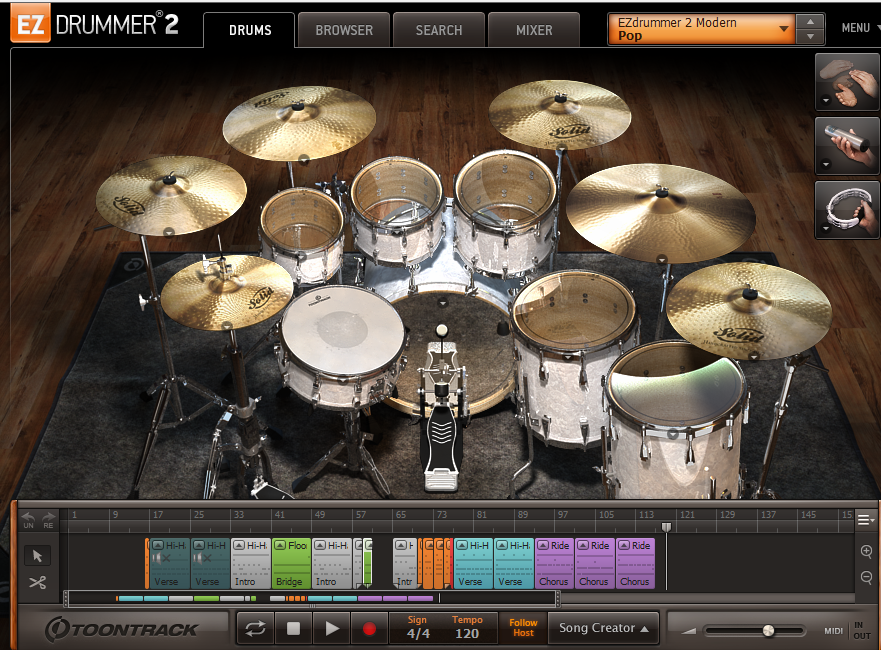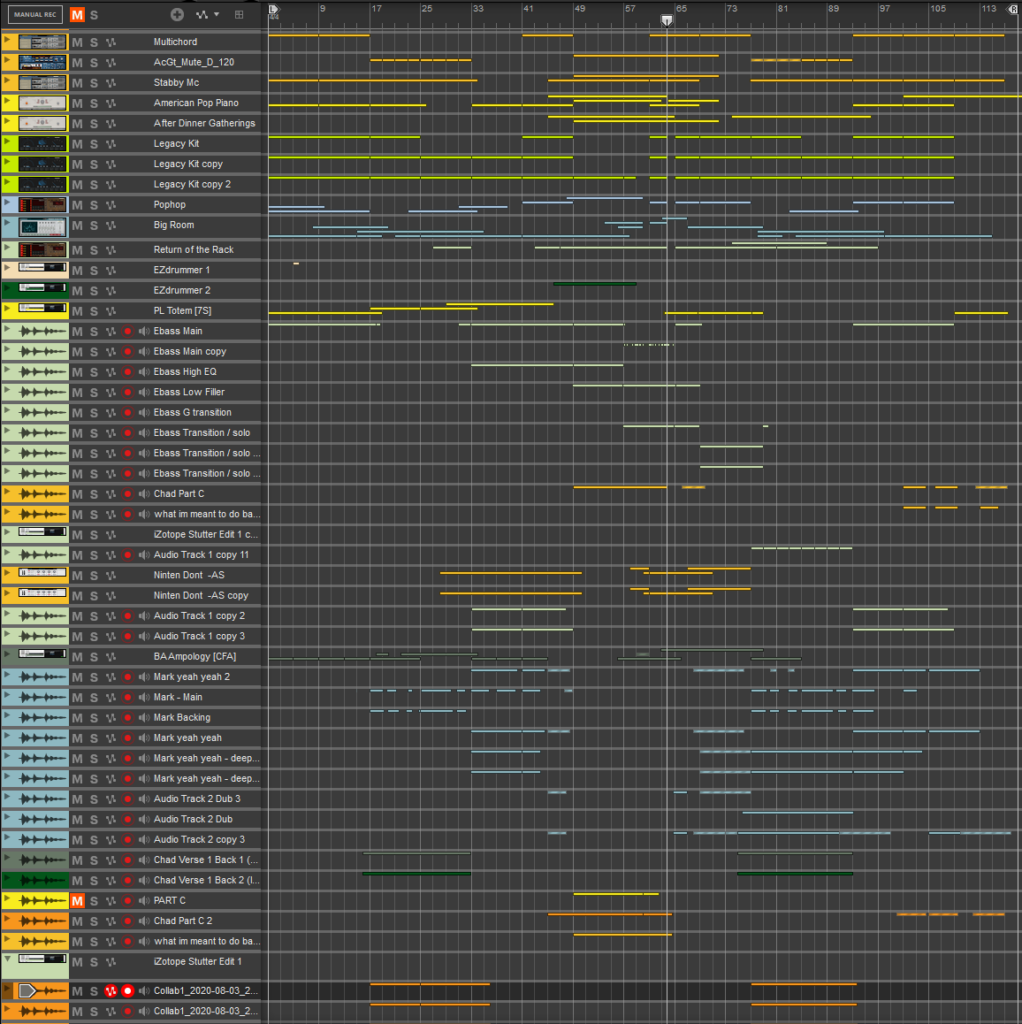 The Electric Bass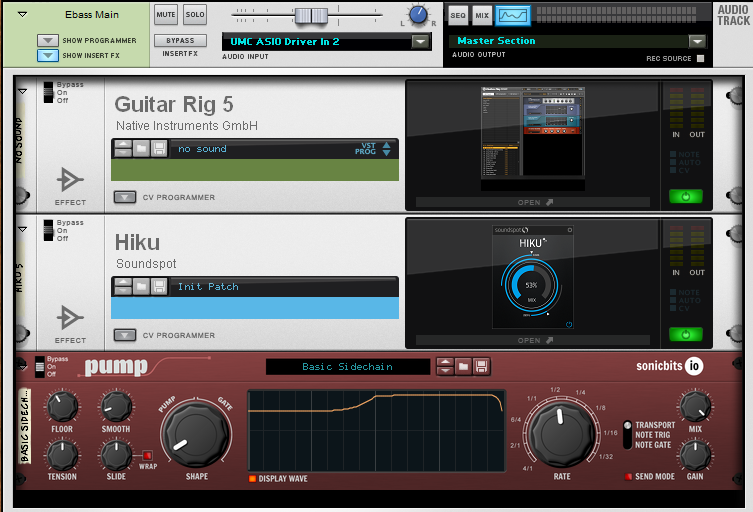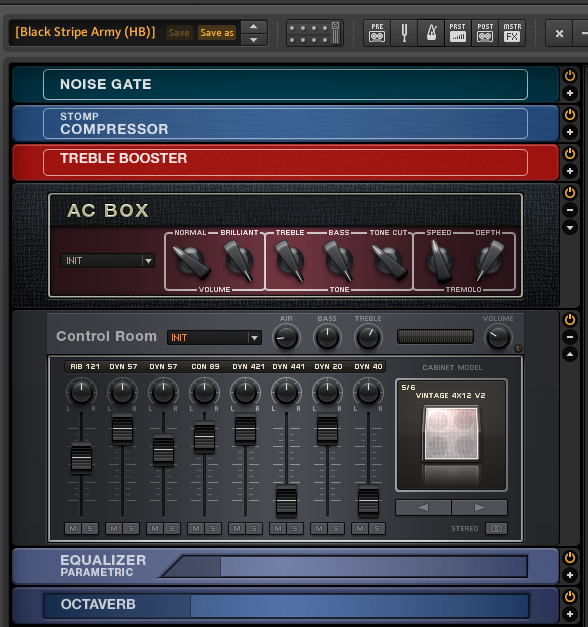 Vocal Processing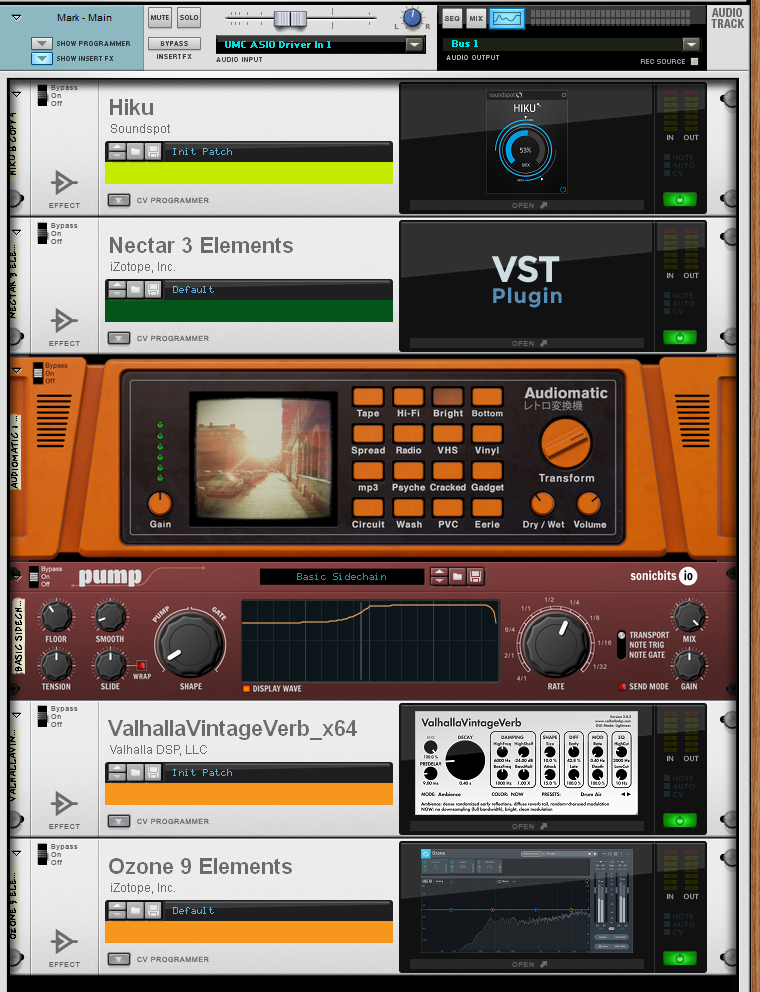 The Sub Bass
A sub synth bass is a staple of my style. I nearly always have one underneath the electric bass playing.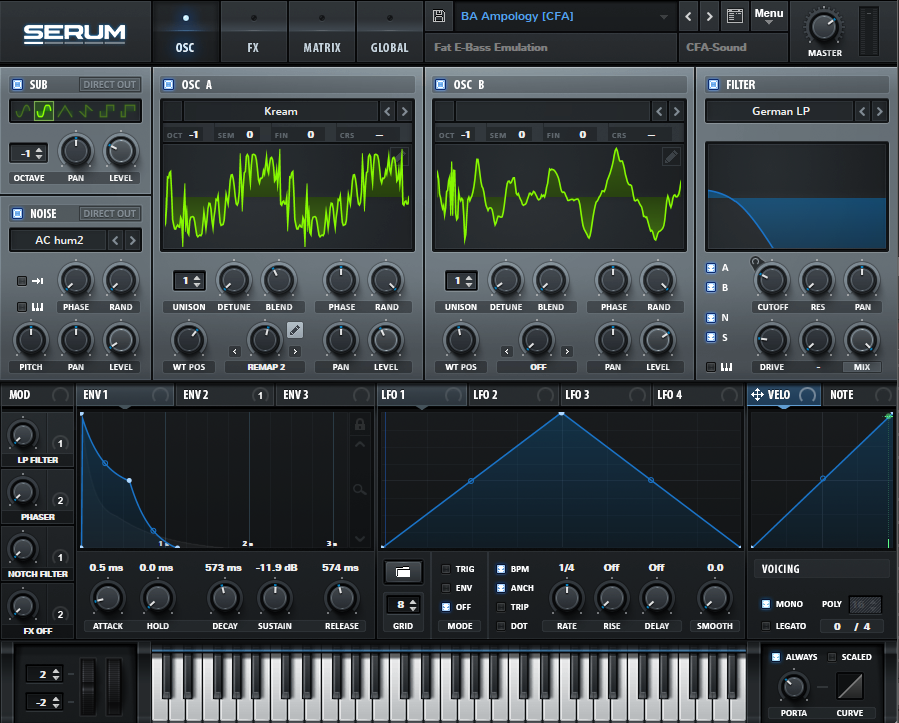 The "Omnichord"
There is an omnichord sounding kind of synth subtly layerd behind most of the track. Its a WAVE Layers Edition preset called 'Multi chord'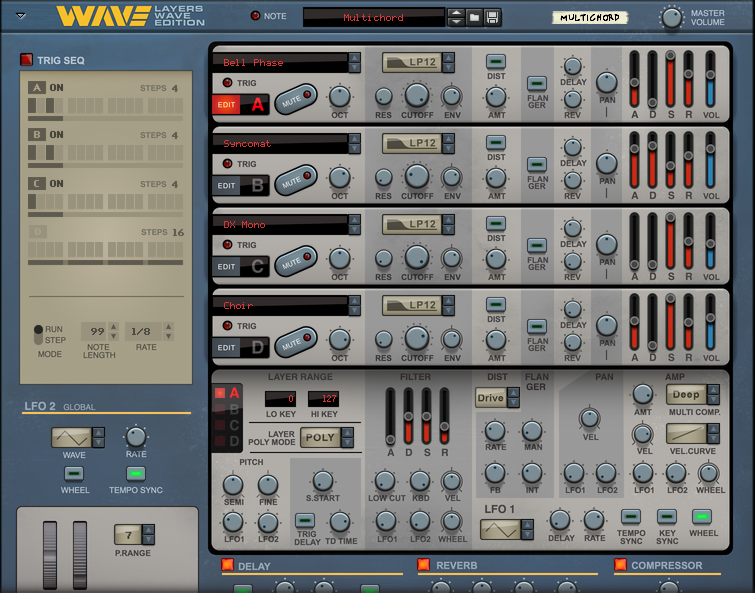 The Pianos
There are 2 traditional sounding pianos used, both done with Radical Piano in Reason 11. Also both on presets. One is 'after dinner gatherings' which sounds like an old piano that has been neglected.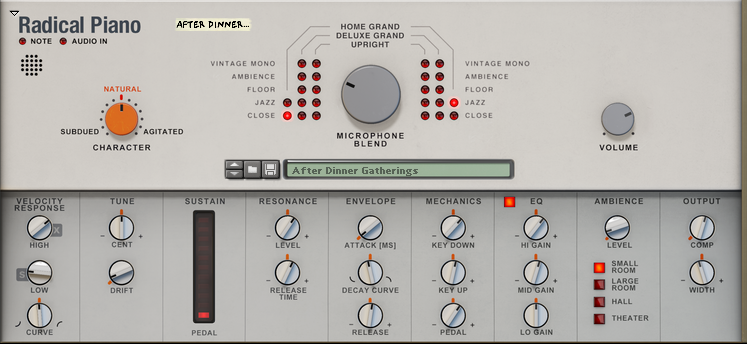 The Chorus SUPER reverbed out guitar pluck